In 1999, following 15 years of service as music minister, worship leader, and composer in residence to Shady Grove Church in Grand Prairie, Texas, composer/conductor David R. Holsinger joined the School of Music faculty at Lee University, Cleveland, Tennessee, as the inaugural Conductor of the Lee University Wind Ensemble. Holsinger's duties over the past twenty-four years have included teaching advanced and graduate level instrumental conducting, orchestration, and composition.
In April of 2023, prior to his retirement, Lee University celebrated Holsinger in a two day gala which featured a concert of his music and several receptions for nearly 1300 alumni and community friends, both the night of the concert and the following day with alumni of the wind ensemble. 
That concert can be viewed at the following internet address:
David R. Holsinger (b. 12/26/1945, Hardin, Missouri), twice the recipient of the prestigious Ostwald Composition Prize of the American Bandmasters Association, was educated at Central Methodist College [Now Central Methodist University], Fayette, Missouri; Central Missouri State University [Now University of Central Missouri], Warrensburg; and the University of Kansas, Lawrence. His primary composition study has been with Donald Bohlen at Central Missouri State and Charles Hoag at the University of Kansas.
David R. Holsinger is an elected member of the American Bandmasters Association.
In 2017, Lee University was designated as the archival depository of the composer's awards, scores and manuscripts. That Library collection is available at https://leeuniversity.libguides.com/DavidHolsingerDigitizedCollection.
In July of 2012, Phi Mu Alpha Sinfonia Music Fraternity inducted Holsinger into its distinguished Alpha Alpha Chapter at its National convention in Orlando. Holsinger, who originally was inducted into Beta Mu Chapter of Phi Mu Alpha in the Spring of 1964, was also presented with the Signature Sinfonian Medal, one of the fraternity's highest honors.
In December, 2011, Phi Beta Mu International Band Fraternity honored Holsinger with their "Outstanding Bandmaster of the Year" Award during its annual meeting at the Mid-West Clinic in Chicago. This award was founded in 1984 and presented initially to Col. Arnold Gabriel. Since then, annual recipients have been John Bourgeois, Ray Cramer, Frederick Fennell, Harry Begian, James Croft, Don Wilcox, and Lowell Graham, among others.
In December of 2010, at their annual luncheon at the MidWest Clinic in Chicago, the Women Band Directors International awarded the composer the "Al G. Wright Award" for his continued support through the years of women band directors. This award is named for Al G. Wright, Conductor Emeritus of the Purdue University Band, and husband of founding WBDI charter member, Mrs. Gladys Wright.
Over the past years, Holsinger has been named a National Patron of Delta Omicron Music Fraternity, awarded the Distinguished Music Alumni Award from Central Missouri State University, Phi Mu Alpha Sinfonia's Orpheus Award, as well as, honorary memberships in Kappa Kappa Psi National Music Fraternity and the Women's National Band Directors Association, and most recently, honored as a Sigma Alpha Iota National Arts Associate.
In April of 2003, Holsinger was presented the Distinguished Alumni Award from Central Methodist College, and the following month, at Graduation Ceremonies, Dr. Paul Conn, President of Lee University presented the composer with the university's prestigious "Excellence in Scholarship" faculty award for his continued achievement in musical composition. In November 2004, during Homecoming Festivities, the Alumni Association of Lee University named the composer, "2004 Honorary Alumnus of the Year".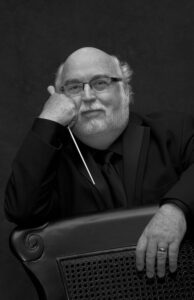 During festivities surrounding the premiere of the composer's THE EASTER SYMPHONY, Holsinger was honored by Gustavus Adolphus College with the awarding of an honorary Doctor of Humane Letters for lifetime achievement in composition and presented the Gustavus Fine Arts Medallion, the division's highest award, designed and sculpted by renowned artist, Paul Granlund (1925-2003). Holsinger was the fourth composer honored with this medal and joins a distinguished roster which includes, among others, Gunther Schuller, Jan Bender, Csada Deak, and Libby Larsen.
Holsinger has appeared as guest composer/conductor at over 75 major colleges and universities in the past 40 years, serving as Visiting Composer in Residence at 13 schools, and has had opportunity to guest conduct outstanding high school honor bands in thirty-seven states. In recent years, he has conducted the All State Bands in Tennessee, Kentucky, South Carolina, New York, Virginia, West Virginia, Alabama, Utah, Illinois, Arkansas, Oklahoma, Texas, Kansas, Indiana, Georgia, Wyoming, South Dakota, Louisiana, Mississippi, California, Massachusetts, Nebraska, and Missouri.
In the summer of 1998, the United States Air Force Band of the West featured Holsinger as the HERITAGE VI composer during the Texas Bandmasters Association convention in San Antonio. This prestigious series celebrating American wind composers was founded in 1992 and had previously honored Morton Gould, Ron Nelson, Robert Jager, W. Francis McBeth, and Roger Nixon. This collection of recorded concerts has become, in recent years, a very special addition to the wind music world. In 1999, the Christian Instrumental Directors Association awarded Holsinger its "Director of the Year" citation. The composer has also been honored with biographical inclusion in "The Heritage Encyclopedia of Band Music", Vol. I and III, and in Norman Smith's "Program Notes for Band".
Holsinger's compositions have received kudos in several national competitions. He won the National Federation of Music Clubs Band Composition Contest in 1970. In 1971, THE WAR TRILOGY was awarded first place in the Kent State University Band Composition Contest. LITURGICAL DANCES was first runner-up in both the 1981 NBA-DeMoulin and ABA-Ostwald competitions. In 1982, the ABA-Ostwald prize was awarded to Holsinger's THE ARMIES OF THE OMNIPRESENT OTSERF. In 1986, Holsinger's THE DEATHTREE, was a finalist in both the NBA-DeMoulin and the Sudler International Competition. His composition, IN THE SPRING AT THE TIME WHEN KINGS GO OFF TO WAR, won the 1986 ABA-Ostwald Prize.
Much of Holsinger's music is characterized by unrelenting tempos, ebullient rhythms, fluctuating accents over set ostinati, poly-lineal textures, vigorous asymmetrical melodies, and high emotional impact. His adagio works are as intransigently passionate as his allegros are exuberant! – TRN program notes.
Compositions by David Holsinger receiving outstanding reviews include THE EASTER SYMPHONY, a three movement, 55-minute chorale symphony based on the Passion of Christ, and the U.S. Air Force Tactical Air Command Band commission, TO TAME THE PERILOUS SKIES. High marks by reviewers have also been given to the memorial work, CONSIDER THE UNCOMMON MAN; PRAISES, a six-movement ballet suite; SCRAPPY BUMPTOE'S PICTURE CARDS AND RAGTAG DIARY, composed for the Kansas Brass Quintet; SINFONIA VOCI for band and choir; TEXAS PROMENADE, celebrating the 50th Anniversary Convention of the Texas Bandmasters Association; and THE SONG OF MOSES, a four movement band/choral work premiered by the United States Air Force Band and Singing Sergeants and selected for broadcast nationally on a National Public Radio Special Project on Vocal Music in August, 1997. The three CITYSCAPES composed over a period from 2004 to 2008 comprise the "CITY SYMPHONY", receiving a number of performances each year since their conception.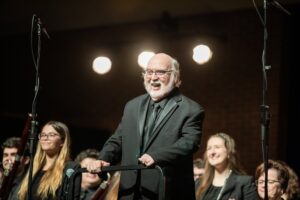 Other much performed works in Holsinger's band catalogue include THE WAR TRILOGY 1971, a special edition of the Kent State contest winner; ABRAM'S PURSUIT; a rollicking overture based on a story from the Book of Genesis; HOMAGE: THREE TAPESTRIES, the composer's tribute to Vaclav Nehlybel; and ADAGIO, about which one reviewer penned, "Composed in memory of a departed friend, this work is an intensely emotional synthesis of both joy and pain, the result being a beauty touched with sadness similar to the effect achieved by Albinoni's famous Adagio."
SCOOTIN' ON HARDROCK, a jazz suite for concert band, and BATTLE MUSIC, a work inspired by Revelations 12:7; 'And there was war in Heaven….' have already seen a major number of performances since their publication in 2001. Not to be overlooked is Holsinger's translation of the American hymn, 'It is Well with my Soul'. ON A HYMNSONG OF PHILIP BLISS, his largest selling work, has become a part of the national dialogue with numerous televised memorial performances in recent years, including the commemorative services for the Challenger Astronauts, the State Funeral and Interment of President Ronald Reagan, the dedication of the World War II Memorial, and national commemoratives for our fallen heroes of the American Armed Forces, past and present.
His original translations of a number of American hymns receive hundreds of performances each year. Holsinger is published by TRN Music, Barnhouse Publishing Company, Wingert Jones Publications and Southern Music.
Large project for the summer of 2010 was REAGAN OF ILLINOIS, a 30 minute work for Band, Narrator and Chorus, commissioned by the City of Dixon, Illinoisto celebrate the 100th birthday of hometown boy, President Ronald Reagan. Premiered in February of 2011, REAGAN OF ILLINOIS, is published by TRN Music in two parts, one for band and narrator and Part II, for band and chorus.
In 1995, Mark Recording Studios of Clarence, New York, released the first two CD volumes of a projected multi-volume anthology. These volumes, THE SYMPHONIC WIND MUSIC OF DAVID R. HOLSINGER, feature major professional and university performing organizations in both live and studio sessions with the composer. Volumes 1 through 12 are now available. Volume 11, released in December 2011, includes recordings of Fanfare Mid-America, Quiet River, Solemn Hymn & Rowdy Dance, Symphonia Glorioso, CityScapes I, II, and III, plus the premiere performance of Reagan of Illinois, Part I and II. Volume 12, released in 2016 includes two new young band compositions dedicated to the grand-children, plus recordings of new works, Some Give All, Deborah's Triumph/Jael's Revenge, and a new recording of the Grade 6 success, Gears Pulleys Chains.
Holsinger was one of eleven composers asked to contribute a chapter in the GIA project entitled COMPOSERS ON COMPOSING FOR BAND. This projected 4-volume book venture is edited by Mark Camphouse and Volume I, which includes chapters from such notable composers as David Gillingham, Karel Husa, and W. Francis McBeth, among others, was released in December, 2002. A chapter concerning the music of David Holsinger is included in A COMPOSER'S INSIGHT: THOUGHTS, ANALYSIS AND COMMENTARY ON CONTEMPORARY MASTERPIECES FOR WIND BAND, VOL III, edited by Timothy Saltzman and published by Meredith Publications in late 2005. In addition, Holsinger was the subject of a special article in the German music magazine, "Musik zum Lesen" in celebration of his 60th birthday in December 2005. He has previously been featured in "Bläsermusik" magazine, also a German publication. The April, 1999 issue of The Instrumentalist magazine, the world's leading publication in its genre, featured an interview with the composer, along with two accompanying articles concerning Holsinger's compositions. An interview with the composer concerning composing, conducting and music at Lee University was the cover feature in the March 2010 issue of INSTRUMENTALIST Magazine.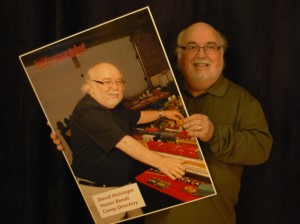 "On July 12, 2015, driving home after conducting a concert of the Sinfonian Winds in New Orleans, I suffered a severe paralyzing stroke. I lost function in my entire left side. I was admitted into the Rehabilitation Hospital on the following Wednesday. In the past, most experts considered any healing recuperation from a stroke would have a two- year limit. However, a number of medical experts feel that some improvement can still be seen up to 10 years after the initial event. Obviously much smaller improvements, but improvements nevertheless. Although I have not fully recovered, (and don't expect that), I walk now, leg braced, and I have movement in my left arm, though not control enough to conduct and throw cues. Fingers on the left-hand still do not function well, but now I can conduct a full concert, albeit with my right arm and eyebrows! I have more active hours and more steps in my body, which is a good measurement in "stroke recovery" parlance."
During the Lee University homecoming weekend in November 2017. Holsinger bequeathed all his papers, including scores both published and unpublished, to the University library to be archived, for future reference and Study. On Saturday morning, November 4, the official archive was published online following an interview in the Squires recital hall.
David Holsinger Interview, Nov. 4, 2017
The official archive can be found at:
https://leeuniversity.libguides.com/DavidHolsingerDigitizedCollection