THE "ANY TIME ANY SPRING" MODEL TRAIN LAYOUT
I play with trains.
There, I've said it.  I'm not interested in prototypical railroading.  I don't do any that stuff that "real" model railroaders do, and there's a reason for that.
I grew up in a small town in north central Missouri.  The main Santa Fe and Wabash lines between St. Louis and Kansas City ran right through the middle of my little farm community.  On those four tracks, over 85 trains a day barreled through town when I was a kid.  (I understand that there are still a large number traveling those tracks even today.)  I lived on a farm a mile from town and from my upstairs bedroom window I watched as those freights and passenger trains of the 50's and early 60's roared across the countryside just a half mile from my house, morning, noon, and night.  My Grandmother's house in town was less than 50 yards from the tracks.  When the trains sped through, the whole neighborhood shook.
I remember watching the trains "catch" the mailbags at the depot.
I remember two sensational head-on train wrecks in the middle of town during my boyhood years, both caused by work trains pulling out too early onto the main line and meeting head-on with a thundering freight train once and another time with a mail train.  I recall that the mail train was full of uniforms for the Air Force Academy and the track was littered with blue overcoats for weeks during the cleanup.  I know the work train guys jumped to safety, but both the engineers were killed, one, I understand, making his final run before retirement.
Anyway, I never watched a "yard".  There were no industries around Hardin, Missouri, unless you counted the sidings to the grain elevators.
So, to this day, I just like to watch the trains run.  And that's the kind of layout I like to build.  Lots of curves, grades, and straight-aways with a multitude of different trains all running through the scenes.  I sit at different spots around my layout, sometimes on a high stool looking down on the action and sometimes at eye level, just to watch the trains roll by.  So, all you "real" train guys can shake your heads sadly and say, "What a pity this guy isn't really one of us", but the college students who come over to see the layout don't care, and my grand children REALLY don't care, so I'll just keep contentedly doing what I do, enjoying every moment.
I play with trains.
*****
I had a medium sized L-shaped ("traditional" 4X8 by 4X8 plywood sheets) model railroad layout in our last Texas house and when we moved to Tennessee in 1999, my wife was adamant that we find a house with a basement so I could build a new layout.  After-all, it was a hobby that kept me "out of the bars and off the street" – not that that had ever been a problem before.  She just was very aware of how much I enjoyed something that was different than the musical life I lead.
The first year at Lee University seemed so busy that I didn't really get a fast start on the new layout.  My children, aware of this, gave me LUMBER for Christmas!  It was somewhat a declaration for Dad to get back to that "fun" thing he enjoyed.
The first "Tennessee" layout was simple.  A "stand in the middle" rectangular "duck-under" layout about 10 feet by 12 feet in diameter.  This "box canyon" layout was built and lasted about three years, when I realized that I was building inward at such a rate that I wasn't going to have room to stand inside much longer.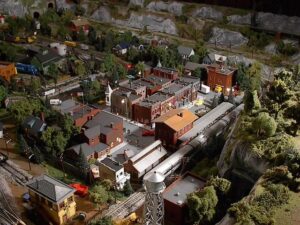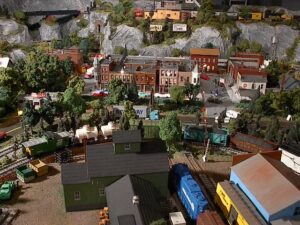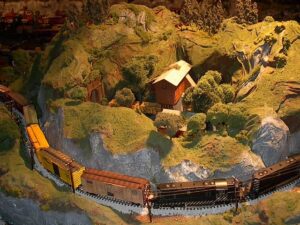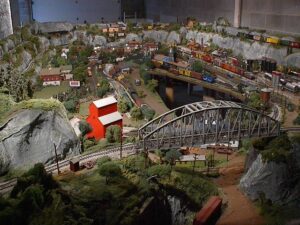 That first un-named pike was torn down and building began in earnest in the fall of 2003 on a much more expanded layout that eventually turned into a large capital "J" layout that covered an area about 12 feet wide and 21 feet in length.  It was aptly named the the "Any-Time-Any-Spring-Run-Any-Engine-I-Want-to-No-Matter-What-Era-Because-It's-My-Table-And-I-Built-It-And-I-Can-Do-Whatever-I-Want-to" HO Train Layout, because . . . . well, I don't necessarily stay in a designated time frame very well. I'm not a steam guy.  I don't really go for modern railroads.  I tend to like the trains I grew up with.  All the diesels with double trucks.  F units and Geeps.  Santa Fe, CB&Q, and Missouri Pacific lines.  Older 40-foot boxcars.  Trains with CABOOSES!!!!
I kept a running dialogue and picture diary of that railroad, later shortened to "Any time Any Spring" (ATAS) layout on my previous website.  The final pictures of its construction were posted in November, 2009.  For the next two years I ran trains on that pike.  In the fall of 2011 I torn it down and began drawing plans for a new expanded version that I assume will probably be my last layout. 
(That particular 5 year dialogue can be accessed by double-clicking HERE )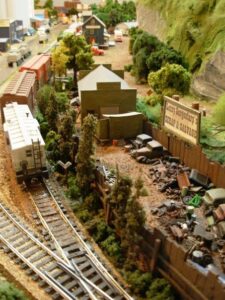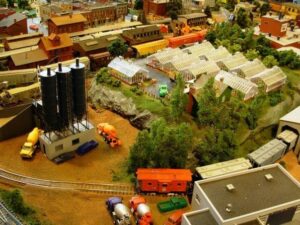 And in the end . . . .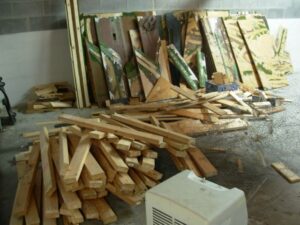 (I HAVE STARTED BUILDING THE NEW LAYOUT.  ONGOING DETAILS ABOUT THAT CONSTRUCTION WILL APPEAR AS POSTS IN THE "TRAIN BLOG".  ALTHOUGH THE NEWEST ENTRY WILL BE FIRST, I WILL NUMBER THEM FOR REFERENCE.)